SIM betting has provided welcome relief for sports bettors
When sports events around the world began to postpone events due to the Coronavirus, some books looked into virtual sports to see if that could attract some interest. One book in particular, MyBookie, took the bull by the horns, ran with it and were shocked by the interest. As the innovator, they clearly weren't sure what to expect but the SIM betting proved so successful that other sportsbooks, including British stalwarts like Bet365 began to offer wagering on it and even DraftKings offered free SIM contests with small prizes for winners. I spoke to David Strauss, the main oddsmaker at MyBookie, who answered some questions relating to what exactly SIM betting is, how to wager on it, how to watch it, how to handicap it and whether it is profitable. 

OSGA: How in the world did you come up with the idea of wagering on these games? What was the reaction of management at MyBookie when you first proposed the idea and is it sustainable in the future when sports return?
Strauss: I operate under the premise that its better to ask for forgiveness than it is permission. In the early going, it looked like I'd be having to ask for forgiveness (NBA2K was ugly early on) but luckily Madden made up the losses and allowed us to post a small profit (1% hold). We find it keeps our players engaged and therefore we're happy to provide an entertainment outlet for sport deprived fans. Players have a good time at it, lots of players win and friendships have been formed in the chats (Picture a group of like-minded individuals talking about their bets in real time. We frequently have 200 people chatting at once during big plays).


SIM Betting appears to be the new frontier of sports betting. It combines the games that people love with the players that they know. The bettors can apply near identical handicapping strategies to the simulated games as they can to the real sports. The stats are in the game for all to see, and if you don't have the games, the stats are available online. The announcers are the ones you know. The live chat attached to each game brings together a community of gamblers to discuss their positions on the game. I'd challenge every bettor that misses real sports to watch one of our games (it's free on Twitch) and I can guarantee most will stick around to watch a second.

OSGA: Is SIM betting that you offer odds on a completely random simulated computer game or is it more involved like e-Sports or iRacing? Maybe you can provide an example of how it works and where, other than Twitch, people can watch the games.
Strauss: The games are common to many sports fans and all video gamers: Madden NFL (most popular game of all time in terms of sales), NBA2K (strong following) and MLB the Show (Popular with purists because it is the most realistic). We run the Computer vs Computer game option, the simulated games that we accept betting on can currently only be watched on Twitch, it's the best platform for live streaming and it comes with a chat that is very popular.

The "fun" part about these SIMs is that the AI from the Video Game makers (specifically Madden) produces hilarious glitches. The rule with SIMs is we settle according to the points scored during the game, regardless of how they occurred.

We are currently running the Madden MAYhem tournament and have incorporated our own broadcasters with the help from the guys at www.sportsgamblingpodcast.com.

OSGA: What sports does MyBookie offer SIM betting on and how long have you been offering it?
Strauss: We offer the following SIM betting schedule. Noted in brackets is when we began offering the sport.
NBA2K: 6 games per day, starting at 11:30am EST. (March 18) twitch.tv/mybookienba2k
Madden 20 NFL: 8 games per day, starting at 10am EST. (March 20) twitch.tv/mybookiemadden
MLB The Show 20: 4 games per day, starting at 4p EST. (May 7) twitch.tv/livemlbsims
UFC 3: Wednesday and Saturday (April 4) twitch.tv/liveufcsims

OSGA: How do My Bookie, and similarly, bettors, handicap a simulation? What types of stats is everyone looking at and what are some other strategies?
Strauss: The simulation versions on the games varies in terms of how accurate it is to real life. For NBA2K, you cannot approach it as if it was real basketball because the game has made some players much stronger than they are in reality. That is why you'll see us hang Lakers -21.5 on a regular basis, certain players and matchups have a large advantage. Lebron James, Giannis, Anthony Davis cannot be defended so you have to take that in to account. Madden 20 is closer to reality so we apply the same handicapping strategies that we would for a real NFL game and then multiply the total to account for video game scoring. MLB The Show is the most realistic, you can apply normal MLB handicapping to the game to get a fair line for the players to bet in to.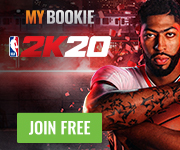 OSGA: What are some of the advantages of betting on SIM sports vs betting on a real game?
Strauss: Believe it or not, SIM betting has far more emotional peaks and valleys than a regular game. The action is more back and forth, the disappointing/exciting (depending on what side you are on) plays are more frequent and the addition of the attached chat room makes for a good community of gamblers out for entertainment. The sh*t talk in the chat alone is worth tuning in for. 

OSGA: What are the limits at MyBookie.ag for the games?
Strauss: Our limits vary by sport, from a max of $250 on NBA and UFC up to $1000 on NFL and MLB.

OSGA: Lastly, has anyone ever made money betting on SIM games?
Strauss: We have had multiple customers post five figure wins (MyBookie takes parlays on all SIMS). For the most part, players are able to break even on it. A time may come where we look to profit but for now we are content providing entertainment for our players.

David also noted that the company does not use a third-party provider for the odds and that their in-house teams sets the lines for the individual simulated sports. He also contends that the offering helped keep the company viable during tough times.

"When the pandemic hit, we kept going. It's no secret we (and all other books) had a run on the bank as balances were withdrawn with no sports to bet on. However, unlike other books, we paid everyone instantly. That's what players should take into account when sports return and they go to place their bets. Did your sportsbook pay you instantly when times got tough? Was it a hassle-free experience? We can proudly say that none of our players had these stresses when it came to getting their money from MyBookie. As sports return our players will find a vastly improved Sportsbook with SIM betting, a community of gamblers, live streams of real sports as they return around the world and an upcoming lottery that is sure to take us to the next level. Long story short, MyBookie has thrived, while many others struggled to survive."

As a note to OSGA members and readers, MyBookie is a rated as a top online sportsbook with plenty of promotions, payment options and a good signup bonus.
Read insights from Hartley Henderson every week here at OSGA and check out Hartley's RUMOR MILL!